The professional edition of the HttpLogBrowser comes with the following additional features:
•Favorites filters: Ability to save your most used filters inside the application in order to reuse them quickly later from the Favorites menu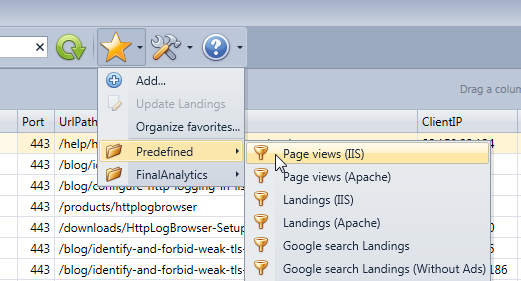 •Log files cache: Ability to keep parsed logs data in a binary file in order to reload the data later 5 times faster. If new log rows are available only these new rows will need to be parsed.
•Server errors warning: If the application sees HTTP errors 5xx in a log file being loaded a notification is displayed to warn you and by clicking on the message you can filter the view to see these errors.


•Load more than 2 millions log rows: If you are running the application on a 64 bits edition of Windows you will be able to load an unlimited number of log rows. The only limit will come from the available RAM and from your patience for waiting the log rows to be loaded.
•Export filtered log rows: You can export filtered log rows in .csv/.xls/.xlsx files.
•Export statistics: You can export field statistics in .csv/.xls/.xlsx files
•Generate statistics reports: You can generate printable field statistics reports. You can then export them in PDF to send them to other people. See a report PDF example.