You specify here where the log files are located. There are two ways to define the set of log files to load:
1.Load all log files from a folder. To do that, select the check box Whole folder. and then specify the path of the folder you want to load. You can browse for a folder if you click the button ... right to the Folder Path text box. Once the folder is selected the log file list is automatically determined. Any file with the .log extension will be selected.
If there are too many log files in this folder and you are only interested in the latest it is possible to specify to load only log files since a specified number of days. You do that in the Analysis settings step of the wizard.
2.Deselect the check box Whole folder and then add manually the log files you are interested in by clicking on the Add button.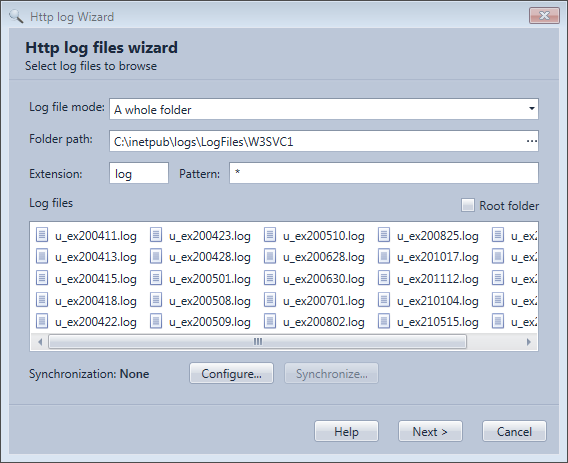 Synchronization
Professional edition only!
If you are running the application on your local workstation then your log files are most probably being generated on a remote web server. If those log files are shared by the web server you can synchronize them automatically with your workstation so you will always load the latest log rows. The synchronization can be used only if a whole folder is selected.
Click on the Configuration... button at the right of the Synchronize button to configure the synchronization.
The synchronization can be done through:
•FTP for an IIS web server or an Azure web app
•SFTP for an Apache web server running on Linux
•The file system for an IIS web server running on the local network.
•HTTP (not recommended) Use the directory browsing features provided by IIS and Apache web servers. If the log folder is shared through the web server and the directory browsing is enabled the synchronization engine will try to parse the files names from the HTML page generated by the directory browsing feature. There is not standard protocol saying how file names are encoded in HTML so there may be problems. First test it with your web server.

The synchronization can be executed:
•Manually
•Once per day when the logs are loaded for the first time in the day
•Every time the logs are loaded.
•At scheduled times with the command line mode.
Once you have configured the synchronization settings, you can click on the Synchronize button to do a test and see if log files are retrieved to the local folder..