At the end of the Http log wizard you can optionally save the log settings in a profile. If you do that the profile will be directly accessible from the Files menu in order to quickly reload the concerned log files with the same settings. Usually you use a profile for a web site. The profiles can be managed in the Profiles management dialog box.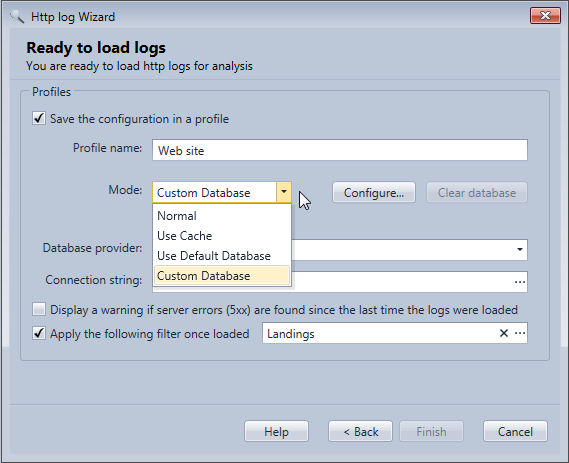 Two additional options available in the professional edition only can also be configured here:
•Cache log files to speed up loading
When this option is selected the parsed data is stored in a binary file for the profile. Later when you reload log files of this profile, log rows already parsed are loaded from this file 5 times faster. Only new log rows are loaded from log files.
•Display a warning if server errors (5xx) are found since the last time the logs were loaded.
If you select this setting every time you load log files of the profile the program will check if there are 5XX errors in new log rows added since the last time log rows of the profile were loaded.
Hereafter an example of a warning displayed when error 5XX are found.