The tools menu allows you to:
•Access the License dialog box if you want to specify a license key to enable features of the professional edition
•Modify preferences
•Change the default settings by using the Log Wizard. Default settings are used when you load log files by just selecting a folder or files in the Files menu.
•You can manage Profiles
Use the diagnostic sub menu for diagnostic only in case of problems when the technical support ask you to do it
•You can display the Data folder where the program stores user settings and the log file
•You can display the application Log file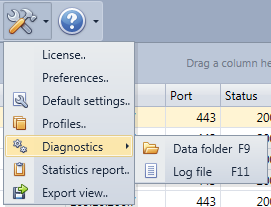 Professional edition only!
•Statistics report (Display a printable report with statistics on selected fields)
•Export log rows (Export the current filtered web requests in a file)