This dialog box is displayed conditionally when you are about to load log files with a size greater than a specific limit that you can customize in Preferences.
You will be prompted only when specifying directly a folder or files to load. If you use the wizard or load logs with a profile you will not be prompted as you can specify the same settings in the log wizard.
The two following log settings can be specified to avoid taking too much time to load the data and avoid using too much RAM.
Limit period to the last N days
Suppose that the selected log files contain more than one year of logs it may takes some time to load all the data and you are maybe only interested in the last 30 days. So if you select this setting and specify 30 days, only the last 30 days of logs will be loaded even that more log files were selected.
Maximum number of log rows to load
The program will not load more than the specified number of rows to avoid consuming to much RAM. The default value is 1 million log rows. You can increase this number to 2 millions rows with the free edition. For the professional edition there is no limit but you need to have enough free RAM. About 1 GB of free RAM is needed for 1 million log rows and it takes up to 5 minutes to load them.
When the limit is reached the older log rows will be missing.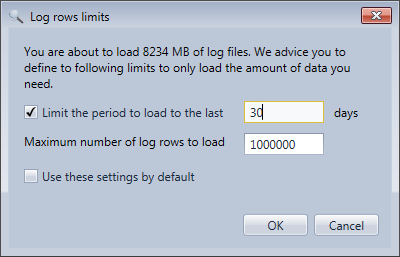 If you select Use these settings by default, the configuration will be stored in the default log settings and the values will be set by default the next time you load logs.